LUXURY AFRICAN SPA - INDULGING THE BODY
Be Pampered in the Heart of the Bush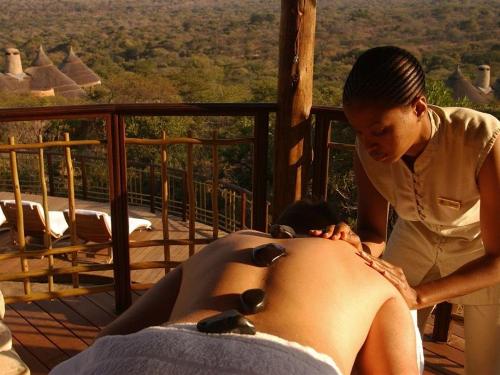 Time spent in the bush is full of excitement, anticipation and wildlife wonder. But then it's time to relax, to unwind and be still. We've designed our two unique Spas to help you achieve this. Enter these sanctuaries of luxurious simplicity in the heart of the Reserve, where our expert therapists will lead you on a journey of beauty, healing and restoration.
Our signature treatments are a combination of western techniques and ancient Zulu holistic practices - learnt from traditional Zulu women, to massage, soothe and heal. We offer a wide range of spa treatments, including a choice of facials, massages, reflexology, body treatments, hydrotherapy treatments, waxes, manicures and pedicures.
In our evocative environment, you'll forget the pressures of daily life. In our therapists' care, you'll surrender to our special Spa experience and relinquish all responsibility for a magical while.
Thanda Spa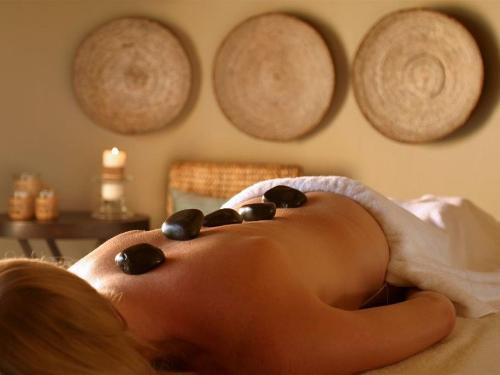 This haven for pleasure-seekers and heaven for lovers of nurturing is located in a secluded enclave within Thanda Safari Lodge, for the use of Thanda Safari Lodge and Villa iZulu guests. The setting is a luxury spa environment that emerges from a bed of stone and rock, leading out to a relaxation deck and swimming pool.
Treatments can be enjoyed in our tranquil therapy rooms or outside in the sala space with beautiful views over the reserve. The peaceful and blissfully serene bush environment makes for a deeply memorable experience. In-suite treatments can also be booked on request.
We use the world-renowned Dermalogica skincare range for our beauty treatments and incorporate indigenous ingredients and special Thanda touches. Our therapists are trained in the Dermalogica international method.
Thanda Tented Camp Spa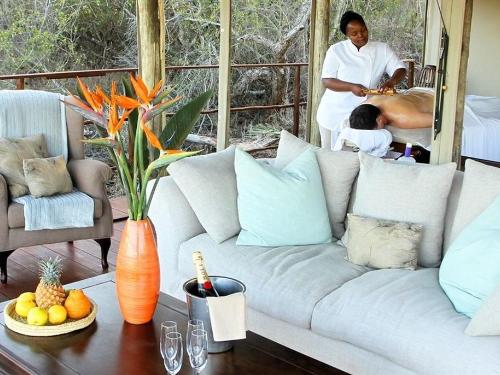 For Thanda Tented Camp guests, our setting is a sumptuous safari tent with an open-air deck overlooking the Royal Zulu Mountains where Thanda's wild animals roam. We've developed our own special techniques to reflect the Thanda environment and its wildlife. One example is the Ndlovu Walk (ndlovu means elephant in isiZulu) treatment, a deep lymph drainage massage, based on the deep but gentle pressure of the elephant's footsteps.
We use a range of non-allergenic aromatherapy and massage oils, herbs and essences. Our Spalicious range includes delectable creams, oils, soaks and self-heating sugar scrubs to delight your sense, with fruit extract and herb combinations that reflect the meeting of Africa and the World. For our facials we use the Six range of skincare products. This proudly South African product has been scientifically developed without any animal testing for optimal skin comfort and a sensory experience you will never forget.